Stress Relief Activities for a Happier and Healthier Workplace
To celebrate Stress Awareness Month, Accountability took the opportunity to conduct a series of activities to help decrease daily stress and promote a positive work environment. We understand the negative effects of stress on our physical, emotional, and mental health, which is why we encourage our employees to prioritize their self-care.
Research shows that individuals with access to effective stress relief techniques tend to be happier, healthier, and more productive — which is why we're excited to share some of our favorite stress-reducing activities we'll implement throughout the month.
Mindfulness & Meditation
Mindfulness meditation is a powerful tool for reducing stress and enhancing overall well-being. We'll offer guided meditations and mindfulness exercises during lunch breaks and encourage our employees to continue to engage in meditation outside of work hours.
Physical Exercise
Moving our bodies and engaging in physical activity is a great way to reduce tension and stress. We'll conduct daily micro-exercises such as stretching, walking, and light workouts during breaks. We'll also be offering discounted gym memberships and access to wellness classes.
Healthy Eating Habits
What we eat plays a significant role in our physical and emotional health. We'll be offering healthy snack options throughout the day for our hybrid employees, beneficial snack care packages for remote employees, and promoting a balanced diet to nourish our bodies.
Team Building Activities
Interacting with colleagues positively can help increase happiness levels and reduce stress at work. In addition, we'll host fun virtual team-building activities such as trivia night, scavenger hunts, and friendly competitions to improve overall morale and positivity.
Employee wellness and mental health should be a top priority for companies looking to build a happier and healthier workplace. During Stress Awareness Month, Accountability took steps towards promoting stress-reducing activities among its employees.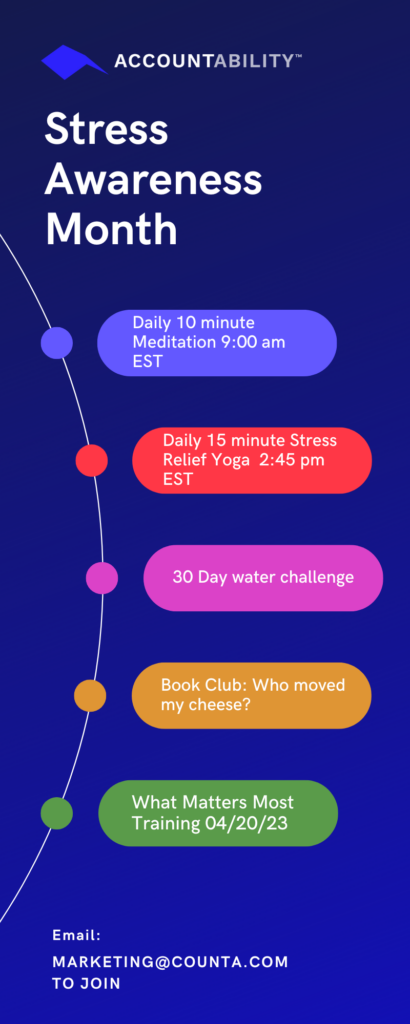 We aim to provide stress-reducing tools and techniques to help our team members feel happy, healthy, and productive. By creating a positive work environment, our employees will feel more empowered to achieve their goals and become better professionals.
Keep up with us. Subscribe now: